Blog Series: HRTS student experiences working with Rohingya refugees in Bangladesh
Dec. 4, 2022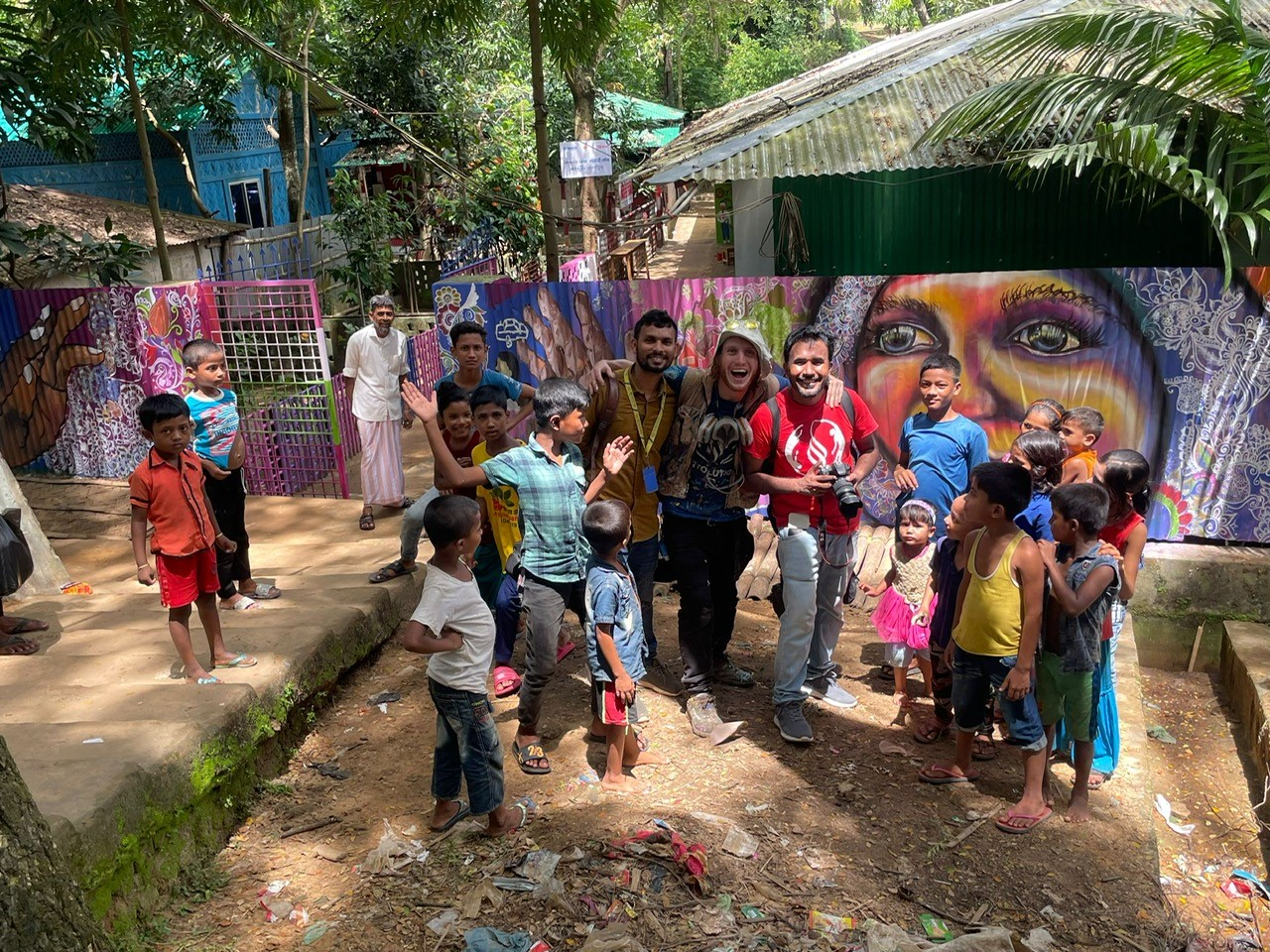 By McKenna Braaton, Candice Montaño, and Abby Nelson
As a group of graduate students from the University of Arizona Human Rights Practice Program we had the opportunity during the summer of 2022 to travel to the refugee camp in Cox's Bazar, Bangladesh. We made with visit with Professor Bill Simmons, Director of the Human Rights Practice Program, along with Robin Al-haddad from DevRA International, who is an alum of the program.  
We were operating under a grant with National Geographic Society to work with Rohingya Artists and youth at Kutupalong Refugee Camp in Cox's Bazar, Bangladesh.  We partnered with Max Frieder and Suza Uddin from the international NGO Artolution in conjunction with the office of United Nations High Commissioner for Refugees (UNHCR), and Professors Ishrat Zakia Sultana and Mohammad Bulbul Ashrf Siddiqi from North South University in Bangladesh. Utilizing a community based participatory action research approach, our objective was to develop a monitoring and evaluation protocol that Artolution's Teaching Artists and Country Coordinators could use in the field to evaluate their programming. 
As an NGO, Artolution trains and supports teams of local teaching artists to facilitate collaborative, educational arts programming in crisis-affected communities (primarily in refugee camps in Bangladesh, Azraq Refugee Camp in Jordan, Bidi Bidi Refugee Settlement in Uganda, and multiple vulnerable communities in Colombia). This experience was truly transformative, and we are beyond grateful to have had the opportunity to participate.   
The friendships and learning foundations formed throughout this experience will be carried with us throughout our personal and professional journeys lifelong, as will our gratitude toward the University, our research team, our partners, and the incredible team of Rohingya Artolution teaching artists whose professionalism, kindness, and resilience will continue to serve as a model for community led crisis intervention for all projects to come.
Over the coming weeks, the UArizona HRTS Blog will be hosting a series of blogposts offering the students' reflections on their experiences in Bangladesh.
Forthcoming blogposts
Reflection by McKenna Braaton
Reflection by Candice Montaño
Reflection by Abby Nelson